At WMH&I, we've long believed that creativity is a powerful business tool. Naturally we do – we're a branding and design agency, our clients pay us for coming up with imaginative, innovative solutions to their business problems.
But, if you'll permit me a metaphor, much as a garden can appear lush and green, only for a second look to reveal that its most striking features have become overgrown with vines and weeds and tall grass, creative agencies can easily become smothered by 'business'.
That happens to almost all agencies at some point, but in late 2022 we had a second issue to deal with, which was that following a Covid-driven merger between sister agencies Williams Murray Hamm and Identica, WMH&I was entering a new era – almost, if I can use one more metaphor, like a couple getting married during a war and then as stability returns, realising it's time to redefine the nature of your peacetime relationship.
It was the perfect moment to clear away all that overgrowth and look afresh at what WHM&I really stood for.
This is why, nearly a year ago, we began a journey to recentre our branding agency around creativity. Not just the creativity that manifests in our work but a deeper, more structural embrace of creative thought that permeates every aspect of our operations.
Identifying the Four Cs
The first thing we needed to do was reflect on what 'creativity' really meant for us. The answer we proposed was in the form of what we call our Four Cs: curiosity, collaboration, courage, and care.
Curiosity: seeking out the new, with a mindset that nothing is boring, and applying this to everything from a new brand design brief to streamlining the process for claiming expenses
Collaboration: internally, this means making sure everyone belongs. Externally, this is in recognising that good ideas get better from working together, and making sure that all our partners are collaborators
Courage: Boldness in believing and backing big creative ideas, pushing boundaries – and taking our clients along, even if it means stepping out of their comfort zone.
Care: taking pride in the work that we do, but also never forgetting the people it takes to produce it.
Off the page and into action
To ensure these values were what we live and breathe, and not some nice phrases in an eye-catching presentation, we rewrote every job description at the agency to incorporate curiosity, collaboration, courage and care.
As such, the four Cs feature in everyone's annual appraisals and half-yearly check-ins, always with actionable feedback – such as if someone is spending a lot of time working alone, spending some more time in an area of the office where collaboration will naturally arise.
As a result, creativity is not just some siloed responsibility – it is now part of every role at the agency, including the finance team, project managers and other support functions, as well as designers, strategists, and production managers.
Feeding creativity with inspiration
Along with a strategy to establish our values, we introduced two initiatives. One is 'Curiosity Days', 12 days a year in addition to one's holiday allowance when team members have time to immerse themselves in creativity through a mix of personal projects, group activities and internal workshops.
The other is our 'Lunch & Learn' sessions. Once a month we invite creatives, entrepreneurs, authors, and other interesting minds to talk about their work, their lives, and how they harness the power of creativity.
Tangible outcomes?
Does WMH&I now have the most creative expenses filing systems in the world? We are still working on that, but there are some noticeable changes.
One of the most heartening outcomes of this recentering has been how it has empowered our neurodivergent team members, who are thriving on flexibility and a newfound freedom to pitch ideas. Our internal processes have also evolved in positive ways, particularly how we conduct critiques, focusing now on the essence of ideas rather than just their execution.
Not everything has been an instant success. Uptake of Curiosity Days was quite slow in the beginning, and we had to remind people that they are a valuable part of their roles, not just an optional treat. Even now, it's not spread evenly across the business, but we continue to encourage it.
Possibly the best outcome has been how this our renewed focus has transformed the way the senior team thinks. We now embrace the idea that not only can creativity strike at any moment – waiting for the bus, while you're in the shower, while you're with your team working on a client brief – but it can come from anyone. This has made WMH&I a more democratic environment, with everyone from junior staff up empowered to contribute their ideas.
And this inclusive approach is something which is vital as we embark on B Corp certification, reflecting our commitment to not just creative excellence but to sustainability and diversity – things which are vital to ensuring our business continues to thrive over the next quarter century.
Creativity as a tool for everyone
Would I recommend other businesses to pursue a creativity centred approach to transformation? Emphatically, yes.
Creativity is not just about aesthetics and public facing communications; it is a catalyst for profound change. It can revive flagging enterprises, energise employees, and lead to improved growth – and it's fun. So, no matter whether you're in the business of advertising or zinc mining or anything in between, it is definitely an approach to consider.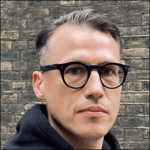 Having graduated with a BA in Architectural Design in 1999, Wybe relocated from his native country, the Netherlands, to London. Initially starting as an interior architect, he eventually found his metier in the management side of agency life. Wybe has worked at top London agencies including: Fitch, Brandhouse and Pearlfisher, before joining WMH&I in 2008. As WMH&I's Director of Growth, Wybe identifies key growth areas and finds new and developing existing pillar clients, such as Castrol, Pernod Ricard and HONOR. Wybe is also board director of BRANDED, the parent company of WMH&I, and he is a Fellow of the Royal Society of Arts.